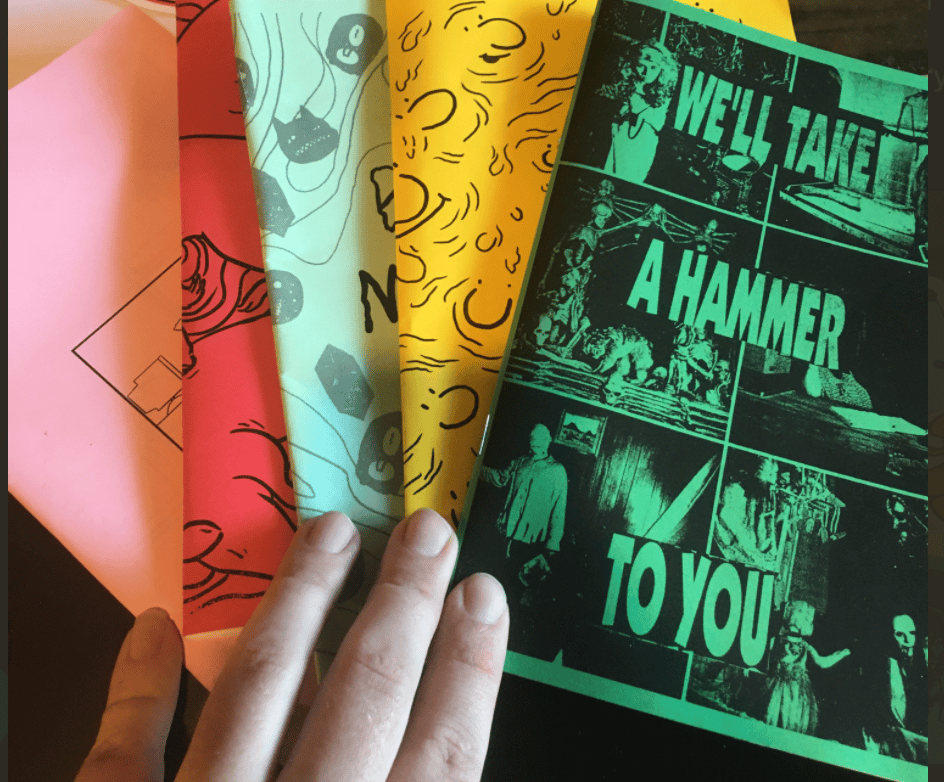 Issue 1 "Oiled Up Leather Daddies"- Learn hot business tips
Issue 2 "Rat Heaven" - Learn about bees, learn about the end of the world
Issue 3 - Some stuff melts. All in all pretty incoherent.
Issue 4 - a bunch of cool drawings of monsters (printed on riso)
Issue 5 - I broke my hand and drew everything with my left hand. This one really sucks.
Issue 6 - Halloween special. A story about some kids exploring a haunted house.
Issue 7 - Learn what the body is (printed on riso)
Issue 8 - learn about the top criminals of 2019
issue 9 - A friendly koala solves your problems
Issue 10 - some collages I made out of old issues of penthouse
Issue 11 - a guy has a bad time at work.
Issue 12 - a Charlie Brown breaks out of linear time. Some teens learn an important lesson or something
Issue 13 - One Man Who is A Cop Who is Also A Literal Baby
Issue 14 - a crudely drawn pulp crime drama starring ants
Issue 15- Collage Zine #2 - all digital collages and free form stream of consciousness writing.
Issues 16 - Astonishing Future Predictions
Issue 17 -18 are not available for purchase because they both FUCKING SUCK
Issue 19 - Clouds, Dreams, Muscles, Joe Biden
Issue 20 - A first person "virtual new years party" I drew for people to experience going to a New Years Eve Party during Covid year 1
Issue 21 - visions of the end of the world. Joe Biden again.
Issue 22 - Drawings of Homer. Yep. That's it.
Issue 23 - Collage Zine #3 more porno magazines. More advertisements.
Issue 24 - Trouble with downloading a guided meditation app.
Issue 25 - secret, arcane fighting techniques
Issue 26 - an anime boy begins to worry he is trapped inside a computer
Issue 27 - A man gets too close to the truth
Issue 28 - a Tijuana Bible starring a famous mouse (adults only)
Issue 29 - Bugs learn how to play sports :)
Issue 30 -is listed on its own page because there are neat things about it to show off
Issue 31 - A person becomes obsessed with observing their neighbor's private misery
Issue 32 - A dadaist tabloid created using cut up writing and photo-collage.
Issue 33 - I had a really shitty month. That's what it's about. Don't tell anyone.
Issue 34 - A stress dream I had about my landlord.
Issue 35 - a guy falls down a flight of stairs. It sucks. This book sucks.
Issue 36 - A horrifying, titanic orange cat terrorizes a town full of simple dogs.
Issue 37 - Top military brass spills the beans about the secret leaders of the world, in this fast paced action comic.
Issue 38 - a short biography of an idiot.
Issue 40 - a story about a computer
Issue 41 - learn the secrets of professional artists. A drawing manual.
Issue 42 - halloween special 2022. A tribute to one of my favorite artists. Learn about new phobias.
Issue 43 - something goes terribly wrong at a party.
Issue 44 - secrets of successful con-men. An instructional manual to get rich and get one over.
If you're interested in FUTURE ZINES
go to http://patreon.com/roryblank
I will keep trying to put a new one out every month